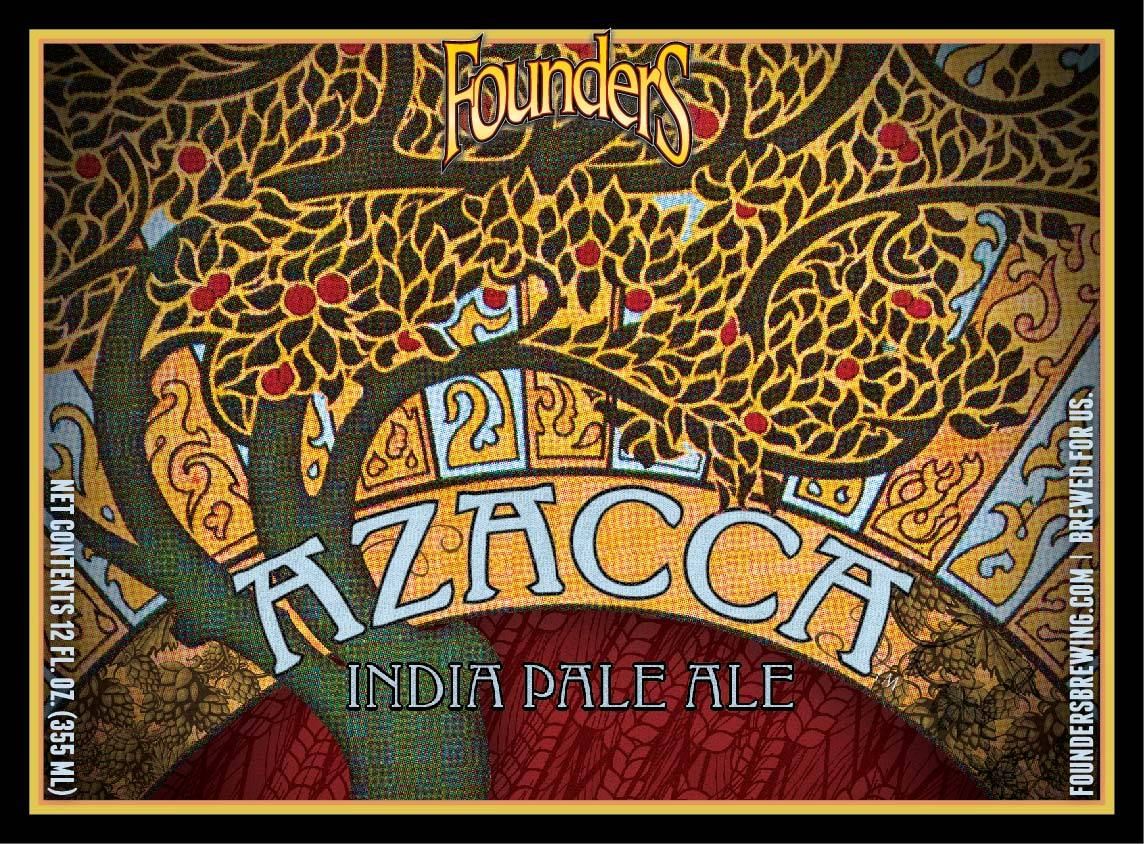 Happy New Year everyone!  For those of you who are giving up beer for your New Years Resolution (it's a silly resolution, I know), you should stop reading now.  For the rest of you, here is a detailed list of some of the exciting new arrivals we will be getting at Cappy's this week!
Founders Azacca IPA- Azacca IPA is brewed exclusively with Azacca hops, a special variety grown by Yakima-based Roy Farms. Named for the Haitian god of agriculture, the Azacca hop variety is distinguished by intense, tropical fruit notes. Azacca IPA includes a touch of caramel malt to provide a sweet backbone to the citrus, mango and orchard fruit flavors in this 7% ABV beer. The label artwork symbolizes the god of agriculture watching over a field where the ingredients used to brew the beer are being grown.
Dogfish Head Bitches Brew-  A dark beer that's a fusion of three threads of imperial stout and one thread of honey beer with gesho root.  Bitches Brew has a 9% ABV and rates 99 on Ratebeer!
Fat Head's Trail Head-  Brewed with whole flower Simcoe and Citra hops, A portion of the proceeds from every pint of Trail Head Pale Ale goes directly to the Cleveland Metroparks Trails Fund, which supports the rehabilitation of the park's more than 270 miles of trails.  Trail Head uses Simcoe and Citra Hops and has an ABV of 6.3%.
Revolution Jukebox-Hero- NOW AVAILABLE IN CANS!  A black IPA bursting with crisp, clean bitterness and layers of wonderful American hop character. Pale Ale, Munich and Naked Golden Oats give a toasty malt backbone with a smooth mouthfeel. The dark ominous color comes from the Chocolate Malt and the de-husked highly roasted malt. Warrior, Citra, Chinook, Centennial and Amarillo lend bitterness as well as a wonderful cornucopia of aromas and flavors of fresh citrus fruit, pine, fresh cut mint and fresh flowers they offer. ABV: 7.5%.
This unique release is a whiskey barrel-aged take on the brewery's Small Batch 72 Imperial, an imperial chocolate cream stout. For every 100 bbl. batch, 400 lbs. of Rocky Mountain Chocolate Factory lustrous chocolate, made especially for 72 Imperial, are added to the brew. After spending a considerable amount of time in whiskey-soaked oak barrels, the finished product is molasses in color and smells of chocolate, wood, and whiskey harmoniously blended together. The beer has a dense and decadent mouthfeel and an abundance of rich flavors, including hints of sherry and dark fruit that compliment the toasted chocolate and oak notes remarkably.  ABV: 7.2%.
Breckenridge Barrel Aged 471 IPA with Simcoe Hops- The newest release from Breckenridge's "471 IPA Barrel Series", using 150 lbs of dry-hopped Simcoe Hops!
Alesmith My Bloody Valentine- Just in time for Valentines Day!  My Bloody Valentine is the red-blooded cousin of their Halloween specialty ale, Evil Dead Red. Caramel-sweet malt is delicately balanced with floral American hop varieties for a truly unique drinking sensation. A deep mahogany red color and a big, aromatic hop profile are the signatures of this seasonal ale.  Buy a bottle for your valentine!
Coronado Stingray IPA- Named after a serene Coronado shoreline where locals soak up sun and suds. This easy-drinking IPA will transport you to a tropical paradise the moment it hits your lips. Citra, Mosaic, Simcoe and Southern Cross hops provide flavors and aromas of tropical fruits and sun-kissed citrus with soft accents of nectarine and peach.  ABV: 7.9%.
Three Floyd's Yum Yum- This Pale Ale has just the right malt backbone to support an explosive juicy hop profile. Derived from a new blend of proprietary hops.  ABV: 5.5%.
Three Floyd's GumballHead- An American wheat beer with a refreshing, crisp citrus finish. This delicious session beer is brewed with boatloads of Amarillo hops.  ABV: 5.6%.
Clown Shoes Evil Crawfish- An Imperial Red Ale dry hopped with Citra, El Dorado, and Mosaic hops.  ABV: 9%.
Heavy Seas Deep Six- A Robust English Style Porter.  ABV: 6.8%.
Dark Horse Double Crooked Tree- "We actually took the Crooked Tree recipe and doubled all of the ingredients except the water, just the way a DOUBLE should be made. Big hops balanced with tons of malt give this beer a huge body. Enjoy right away or let it mellow and smooth with some age."  ABV: 12%.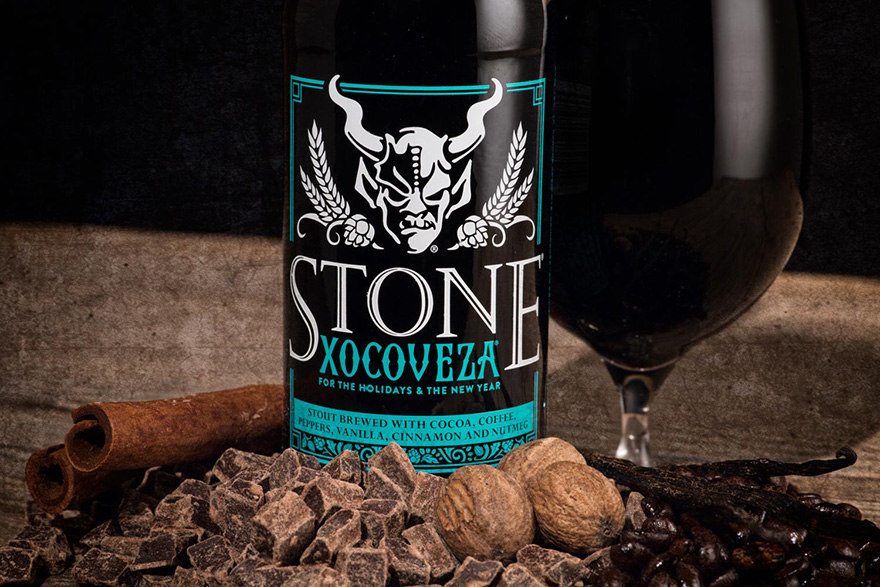 Stone Xocoveza 2015- A second drop! Woo! A mexican hot chocolate inspired stout. Crafted with cocoa, coffee, dried pasilla peppers, vanilla, cinnamon and nutmeg.  ABV: 8.1%.
Sierra Nevada Otra Vez- Using the fruit of the prickly pear cactus, native to California. This tangy fruit is a great complement to the tart and refreshing traditional gose style beer. Otra Vez combines prickly pear cactus with a hint of grapefruit for a refreshing beer that will have you calling for round after round. Otra Vez! ABV: 4.5%.
The Brew Kettle Journey Tour- A mixed 6pack featuring two bottles of the award-winning El Lupulo Libre and bottles of Big Woody, Old 21, Four C's and a seasonal brew.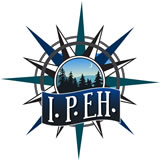 Latitude 42 I.P.E.H.- Their #1 Best Seller! An India Pale Ale that  is a true classic for Hop Heads, using only the finest hopes from the Pacific Northwest. They use centennial, citra, simcoe, Columbus, and Chinook hops to balance out the smooth malty finish. 6.8% ABV.
Latitude 42 Lucifer's Cuvee Double Chocolate Stout- Dangerously devastating, Lucifer's Cuvée is a Double Chocolate Oatmeal Stout. Intense hearty rye, along with a decadent gourmet chocolate essence, are balanced by the addition of Cascade hops. 8.4% ABV.

Latitude 42 Red Beard's India Red Ale- A cross between a NW Red Ale and an India Pale Ale, this dark amber brew uses a variety of crystal, 2-row, and Munich malts with generous additions of amarillo, centennial, and simcoe hops. 6.8% ABV.
Brooklyn Brewing Defender- This bright, juicy, West Coast-style IPA takes on a reddish twist from a dash of roasted malt. Bold, fruity hop bitterness and an intensely resinous nose lead the way into a dry finish that blazes the trail for your next sip.  Brooklyn Defender IPA was forged in collaboration with their sidekicks at New York Comic Con as the official beer of the convention.
Get in here and grab some of these brews before they're gone!
https://www.lovelandcappys.com/wp-content/uploads/2017/03/cappys_new_logo2.png
0
0
Kira Hinkle
https://www.lovelandcappys.com/wp-content/uploads/2017/03/cappys_new_logo2.png
Kira Hinkle
2016-01-04 17:57:31
2016-01-05 14:41:03
New Year, New Beer!