Check out our exciting new craft beer arrivals this week!
Bell's HopSlam-  The highly sought after, once a year release from Bell's Brewing. six different hop varietals are used specifically because of their aromatic qualities, these Pacific Northwest varieties contribute a pungent blend of grapefruit, stone fruit, and floral notes. A generous malt bill and a solid dollop of honey provide just enough body to keep the balance in check, resulting in a remarkably drinkable rendition of the Double India Pale Ale style.  Available this year in cans and a limited number of mini kegs.  ABV: 10%.
Triple Digit Cranium- A once a year release from local brewery Triple Digit.  Cranium is an Ale fermented in bourbon barrels with coffee and vanilla added.  This beer is a great one to cellar and save multiple years of for a vertical tasting!  ABV: 10.5%.
Troegs Nugget Nectar- Once a year, as the newest humulus lupulus harvest arrives at Tröegs, they blend  super-fresh hops into an Imperial Amber Ale. Excessively dry-hopped, Nugget Nectar is an explosion of pine, resin and mango.  Uses Nugget, Palisade, Simcoe, Tomahawk, Warrior Hops.  ABV: 7.5%.
Stone 20th Anniversary Bitter Chocolate Oatmeal Stout- Featuring a thick, rich, roasty mouthfeel and chocolate-heavy flavors and aromas, this onyx-colored, malt-forward beauty became an instant classic that shares space on otheir liquid trophy case alongside their hop-focused fan favorites.  ABV: 9.2%.
Dogfish Head Immort Ale- For this beer, they use maple syrup from Red Brook Farm (Sam's family farm in Western Massachusetts), peat-smoked barley and vanilla.  It  is fermented with a blend of English and Belgian yeasts, then aged in the big oak tanks at the brewery.  The sweet and earthy flavors meld magnificently in the Immort Ale.  (Available in 4packs).  ABV: 11%.
Dogfish Head Oaked Noble Rot- Noble Rot  is the head-on collision of the beer world and the wine world … and now they've aged it on oak for a whole year!  The first addition is the must of viognier grapes that have been infected with a benevolent fungus called botrytis. This 'noble rot' reduces the water content in the grapes while magnifying their sweetness and complexity.  The second is a pinot gris intensified by a process called 'dropping fruit,' where large clusters of grapes are clipped to amplify the quality and distinction of those left behind.  They then aged Noble Rot in one of their oak tanks for an entire year, making for a hazy ale that has a spicy white wine body and a dry, tart finish.  ABV: 9%.
Left Hand Wake up Dead Nitro- A nitro version of their Russian Imperial Stout.  Hints of raisins, black licorice, coffee and dark chocolate are followed by earthy, herbal hop notes. ABV: 10.2%.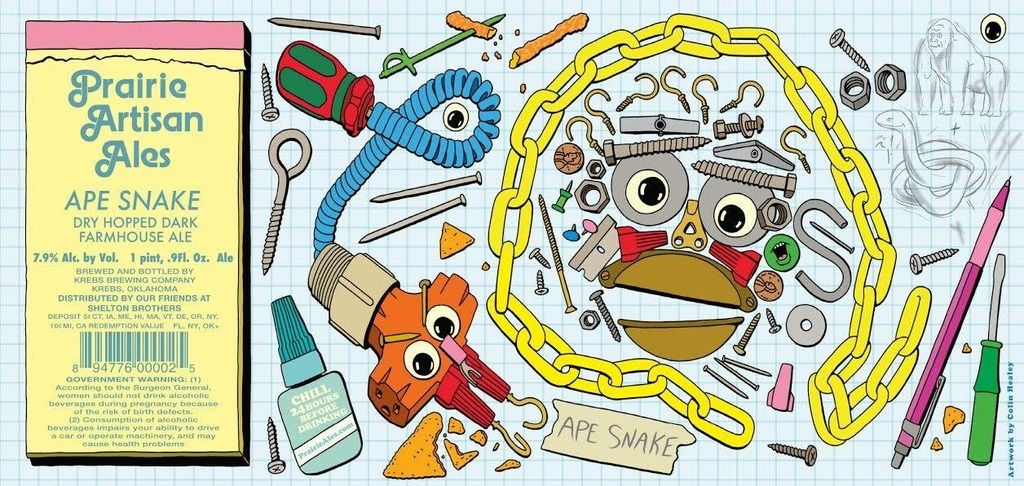 Prairie Ape Snake- Ape Snake  is a dark, dry hopped farmhouse ale. They've taken their dark farmhouse base and dry hopped it with Falconer's Flight and Centennial hops. The combination of yeast and hops create an explosion of flavors, and this beer will continue to develop as it ages.  ABV: 7.9%.
Uinta Ready Set Gose- A straight up traditonal sour offering comprising mostly tart lemon flavors with a slight sodium bite. Coming in 6pack cans! ABV: 4%.
Uinta Biere De Mars- A take on the Biere de Garde style that is then aged in Chardonnay wine barrels to add more depth and complexity.  ABV: 7.2%.
Great Lakes Alberta Clipper- Named for the intense winter storms that sweep the Great Lakes region, this porter is rich and smooth with balanced gusts of tart raspberry and bittersweet chocolate.  Not too tart from the raspberry or too rich from the chocolate, if you like chocolate&raspberry, this is a great every day beer for you.  (February release only).  ABV: 7.8%.
Stone Americano Stout- The coffee notes in Stone Americano Stout are bold, rich and full of American swagger. For each 120-barrel batch, they incorporated over 250 lbs. of artisanal espresso-roast beans into the mash and added in Columbus, Chinook, Amarillo and Cascade hops to invigorate the coffee taste with a slight citrus and resin hop presence.  They use the same local roasters who contributed to their sought-after 2013 Stone ESPRESSO Imperial Russian Stout. The fantastic beans helped them achieve this dark, hoppy and wonderfully aromatic espresso stout.  Available in 6 packs.  ABV: 8.7%.
Hanssens Scarenbecca Kriek- A Lambic brewed  in Belgium with wild Belgian Schaerbeek Sour cherries and aged in oak barrels.  A world class Lambic.  ABV: 6%.
It's going to be a pricey week for the craft beer consumer/collector.  Come in to buy the aforementioned beers, shop around, and maybe stumble upon some other beers that are exciting and limited (*wink wink*).  See you soon!  Cheers!
https://www.lovelandcappys.com/wp-content/uploads/2017/03/cappys_new_logo2.png
0
0
Kira Hinkle
https://www.lovelandcappys.com/wp-content/uploads/2017/03/cappys_new_logo2.png
Kira Hinkle
2016-02-02 23:37:12
2016-02-02 23:37:12
New Beer Arrivals 2/1/16-2/7/16